Come experience a powerful, effective massage session designed to meet your specific needs - a choice of Swedish or Deep Tissue provides you with the ultimate in mind/body relaxation and rejuvenation. See below for full list of services and add on options.
Integrated Therapeutic Massage Sessions
90 minutes - $120
120 minutes - $145
Each session is a full hands-on experience for the time allotted (ie. 90-minute session means 90 minutes of actual massage), can include Hot & Cold Contrast Therapy, Thai Yoga Bodywork, Sound Therapy & Aromatherapy.
Upgrade to Hot Stone Massage for only $15
Upgrade with a Cold Stone Facial for only $25 (adds 15 minutes to session length)
Or Integrate Cold Stone Facial into 90 or 2 hour session for only $15
Other Massage Session Options
60-minute Massage - $85
This is an excellent introduction to massage. Choose between Full Body Relaxation Massage or Deep Tissue to a specific area, aromatherapy & hot towels included. Upgrade with Hot Stone Massage &/or Cold Stone Facial.
50-minute Aromatherapy Massage - $85
This powerful aromatherapy massage session combines essential oils to create a sense of relaxation, mental clarity and peace. Oils are applied to specific areas of the posterior body (Head, Neck, Shoulders, Back & Feet) to promote better health - reduces muscle pain & tension, supports healthy immune system, and can improve mood in a positive way.
We suggest you arrive a few minutes early, to enjoy the peaceful atmosphere of our relaxation room. Drink a cup of tea, read a magazine or just rest your eyes, while you let go of the stresses of your day.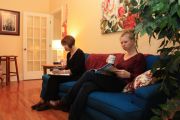 A brief consultation at the beginning of your visit allows us to design a personalized massage to meet the needs of your body. At the end of your hands-on treatment, you are invited and encouraged to stay and rest on the table while the sounds of soothing music leave you floating on air.
Other modalities available by request
Sports & Medial Massage ~ Thai Yoga Bodywork
Acupuncture & Acupressure
Stretch Sessions ~ Lymphatic Drainage
Foot Reflexology ~ Reiki Energywork ~ Sound Therapy
Couples Massage ~ Cold Stone Facials
Prenatal & Infant Massage ~ Outcalls