Come experience a powerful, effective massage session designed to meet your specific needs - a choice of Swedish or Deep Tissue provides you with the ultimate in mind/body relaxation and rejuvenation. See below for full list of services and add on options.
Integrated Massage Sessions
90 minutes - $120
120 minutes - $145
Each session is a full hands-on experience for the time allotted (ie. 90-minute session means 90 minutes of actual massage), integrates hot stones, cold stone contrast therapy, sound therapy, Thai Yoga Bodywork and aromatherapy.
ADD Cold Stone Facial for only $10
We suggest you arrive 10 to 15 minutes early, so you can enjoy the peaceful atmosphere of our relaxation room. Bring your favorite book or magazine to read, while you let go of the stresses of your day.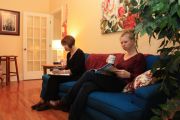 A brief consultation at the beginning of your visit allows us to design a personalized massage to meet the needs of your body. At the end of your hands-on treatment, you are invited and encouraged to stay and rest on the table while the sounds of soothing music leave you floating on air.
Other modalities available by request
Sports & Medial Massage ~ Thai Yoga Bodywork
Acupuncture & Acupressure
Stretch Sessions ~ Lymphatic Drainage
Foot Reflexology ~ Reiki Energywork ~ Sound Therapy
Couples Massage ~ Cold Stone Facials
Prenatal & Infant Massage ~ Outcalls